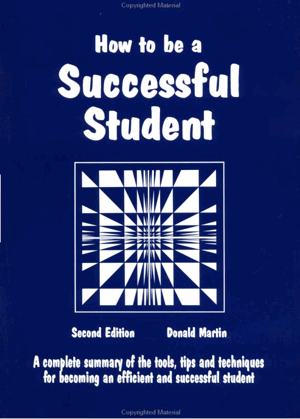 Price is $12.95
($9.95 + $3.00 Shipping & Handling)


Only shipped within in the USA.
Shipped Via US Postal service. Books are shipped within 2 business days of ordering and take up to one week to arrive. Please contact us after one week if your copy does not arrive.

Contact Marin Trails Publishing
marintrailspublishing@gmail.com

How To Be A Successful Student
2nd Edition, 1991
Current Price: $9.95

ISBN 0-9617044-2-X
Donald Martin
48 pages
81/2 x 11

Published by:
Marin Trails Publishing LLC
403 Oakcrest Road
San Anselmo, CA 94960




Updated: 1 June 2011
How To Be A Successful Student
Over 50,000 books in print. Used by public and private universities and high schools across America and abroad. Translated for use in schools in China and India.
About The Book How To Be A Successful Student has a complete summary of the tools, tips and techniques for becoming an efficient and successful student. Thirty topics in modular format. Primarily for high school and college students.
Click Here to View the Table of Contents

About The Author How To Be A Successful Student was written by Professor Donald Martin. A retired physics professor, Professor Martin taught for 30 years at the College of Marin in Marin County, California. His extensive experience with students, and research into best practices for learning culminated in this valuable resource for students.

View a Sample
Portions of the book How To Be A Successful Student are available to view on the Google Books website. Click Here to go to the Google Books site and view samples.

Where to buy a copy of the book.
The only place to purchase a copy of How To Be A Successful Student is directly from Marin Trails Publishing. Most online book sellers list the book for sale, but they do not have copies to ship. To purchase an individual copy of How To Be A Successful Student click on the "Buy Now" button to the left and you will be taken to the PayPal website to complete the secure transaction. We no longer accept checks by mail.

Purchase 6 or more copies of How To Be A Successful Student
contact Marin Trails directly. Marin Trails contact information is to the left. Below are the price discounts for orders over 10 copies.
6-9 books - 5% discount.
10-19 books - 10% discount.
20-39 books - 20% discount.
40 + books - 30% discount.
Shipping and taxes may apply to orders of any size.
Copyright
How To Be A Successful Student is copyrighted by Marin Trails Publishing LLC. How To Be A Successful Student may not be sold in any manner or form without permission of the publisher.